"Bacon, like Copland and Ives, wrote music whose breath smelled American. His output is witty, honest, and always entertaining."
- Syracuse Post Standard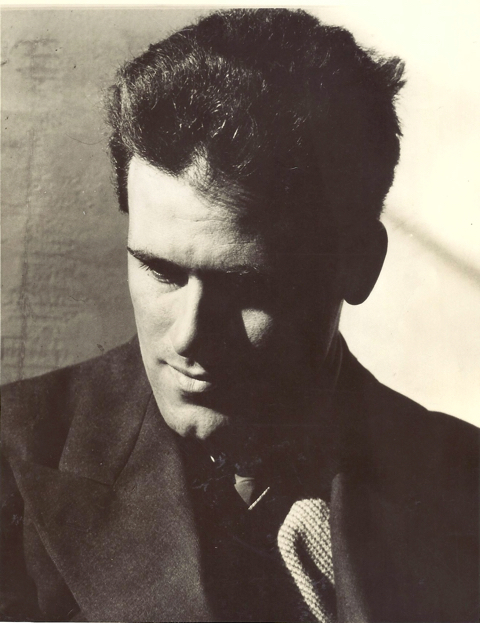 American composer Ernst Bacon
was born in Chicago on May 26, 1898. A recipient of three Guggenheim Fellowships and a Pulitzer Award for his First Symphony, his body of works includes symphonies, piano concertos, chamber music, ballets, and more than 250 songs, as well as several books about music. Bacon's music reflects the dual heritage of his Austrian mother and American father. While influenced by the 19th century classical tradition of Schubert and Brahms, it also reveals the strength and vitality of his American roots.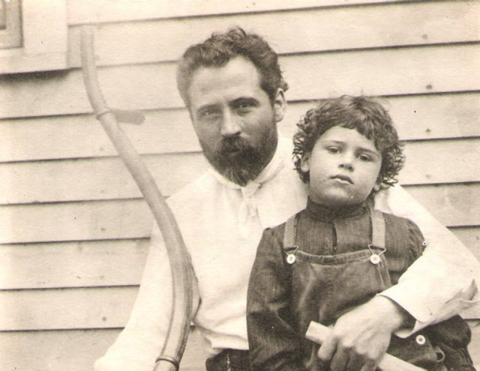 With his father, Charles Sumner Bacon, in about 1903
As a composer, Bacon belonged to no "school" and followed no fads. He was largely self-taught in composition, except for two years study with Karl Weigl in Vienna. While there, he experienced the depression of post-war Europe first hand, and concluded that the European avant-garde movement, reflecting the pessimism of that era and locale, was not appropriate to America. Returning to Chicago, he set out to write music that expressed the vitality and affirmation of our own country.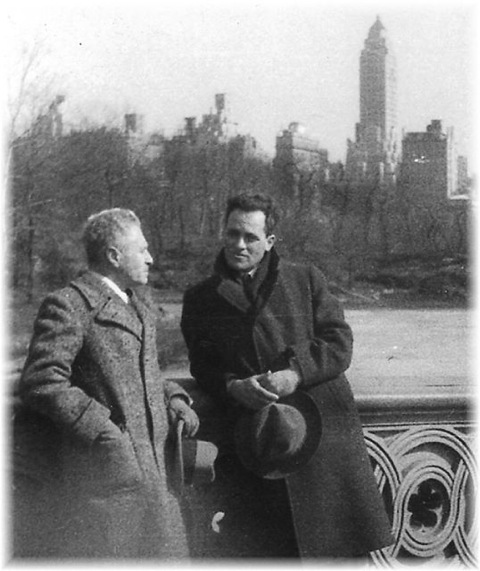 In New York City with (possibly) Karl Weigl in about 1938

At the age of nineteen, while majoring in mathematics at Northwestern University, Bacon published a complex treatise exploring all possible harmonies. However, when he began to compose music in his twenties, he rejected a cerebral approach, taking the position that music is an art, not a science. He felt that its source should be intuitive and imaginative, rather than abstract and analytical.
His chief aim as a composer was to express the spirit of America in music as Whitman, Emerson, Melville and others did in literature. He was deeply interested in our country's history and folklore, as well as its indigenous music; and the poetry, folk songs, jazz rhythms and geography of America as well as the landscape itself, which he hiked, climbed, and also painted -- all of these elements found their way into his music.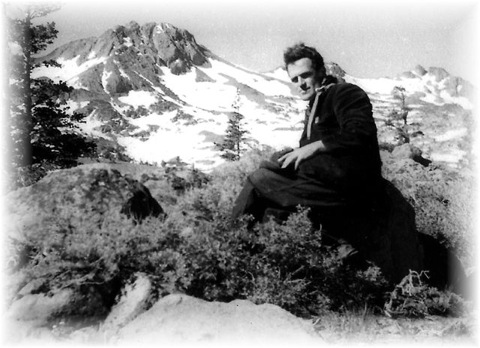 In the Sierra Nevada, about 1930

Among the American artists who influenced him was his lifelong friend, Ansel Adams. Ernst and Ansel met in the 1920s and shared a love of music and mountaineering, along with a passionate concern for the environment. In an age of specialists, these two had the wide-angled vision of Renaissance men. The grandeur and rugged beauty that Adams captured so eloquently in the light and shadow of his photographs is reflected in the tones of Ernst's elegy,
Remembering Ansel Adams
.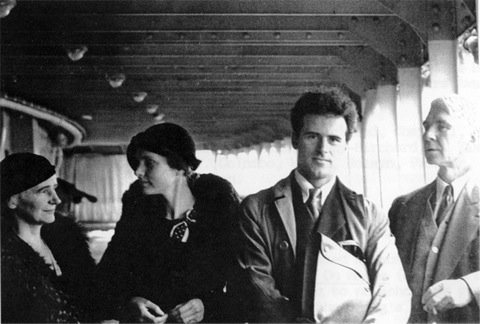 Far left unknown; middle left, Mary Prentice Lillie Bacon (Ernst's first wife), middle right, Ernst Bacon; and far right, Carl Sandberg
About 1927
Others who influenced him included Carl Sandburg (pictured above with Ernst in the late '20s) Thornton Wilder, and Roland Hayes. Bacon's music expresses the common touch and humor of Sandburg; the profound simplicity of Wilder; and the melodic beauty that Roland Hayes expressed so movingly in his singing.
"The Artist should not forget his mission, perhaps the most religious of all, of sustaining faith in the worthwhileness of art and thus of life."
- Ernst Bacon
From The New Grove Dictionary of American Music
Bacon, Ernst (b. Chicago, IL, 26 May 1898; d. Orinda, CA, 16 Mar 1990). Composer and pianist. He studied at Northwestern University (1915-18), the University of Chicago (1919-20), and the University of California (M.A. 1935) [where his master's thesis was the choral cantata The Song of the Preacher (1935)]. Among his teachers were Alexander Raab and G. D. Dunn (piano), Weigl and Bloch (composition), and Goosens (conducting), under whom he was assistant conductor of the Rochester Opera Company. He taught at the Eastman School (1925-28) and the San Francisco Conservatory (1928-30); in 1935 he instituted and conducted the Carmel Bach Festival in California, and the next year he was supervisor of the WPA Federal Music Project in San Francisco and conductor of its orchestra. Subsequent teaching appointments took him to Converse College, Spartanburg, South Carolina, as dean and professor of piano (1938-45), and to Syracuse University, as director of the school of music and professor (1945-63, professor emeritus from 1964). Among his honors are a Pulitzer Award (1932, for the Symphony in D minor) and two Guggenheim Fellowships.
As a composer, Bacon is best known for his songs, which show unusual sensitivity to the color and inflection of words and a masterly use of syncopation to give the impression of natural speech. He preferred short poems with a "certain philosophical undercurrent together with a relatively simple and not-too-involved lyricism" and has been most successful with his settings of texts by Emily Dickinson and Walt Whitman. He has also made many arrangements of American folk music. Our Musical Idiom (1917), his early study of new harmonies, pointed the direction he was to follow, one close to tradition. Yet his style is individual, finding its own basis in nondiatonic scales, American subjects, and a masterly counterpoint. 22 of his Dickinson songs have been recorded by Helen Boatwright with the composer at the piano. In addition to composing, Bacon performed as a pianist in Europe and the USA, and he had also shown talent as a painter. His published writings include Words on Music (1960) and Notes on the Piano (1963).